AUSTIN, TEXAS, April, 02, 2018 — Keller Williams, the world's largest real estate franchise by agent count and the U.S. leader in units and sales volume, had the most top producing brokerages on the REAL Trends 500, according to the annual ranking and reporting published by REAL Trends, Inc.
Keller Williams La Quinta closed 1141 transactions in 2017, up 31.6% over 2016, ranking it as one of the top firms in the Coachella Valley region.
In early March, Market center just celebrated their top producers and Special Awards. Some of notable Award Winners are;
$90 Million+ Achievement – Brad Schmett Real Estate Group
$75 Million+ Achievement – Sheri Dettman & Associates
$60 Million+ Achievement – Jelmberg Team
$30 Million+ Achievement – Zwemmer Realty Group
$25 Million+ Achievement – Signe, Inc.
$10 Million+ Achievement – Allen Group Real Estate, John Sloan Real Estate Group
Rookie of the Year – Danette Kim
Top KW Cares – Jennifer Kovalenko
James Dalton Utsey Cultural Hero – Ozzie Beltran
ALC Member of the Year – Chris Jenning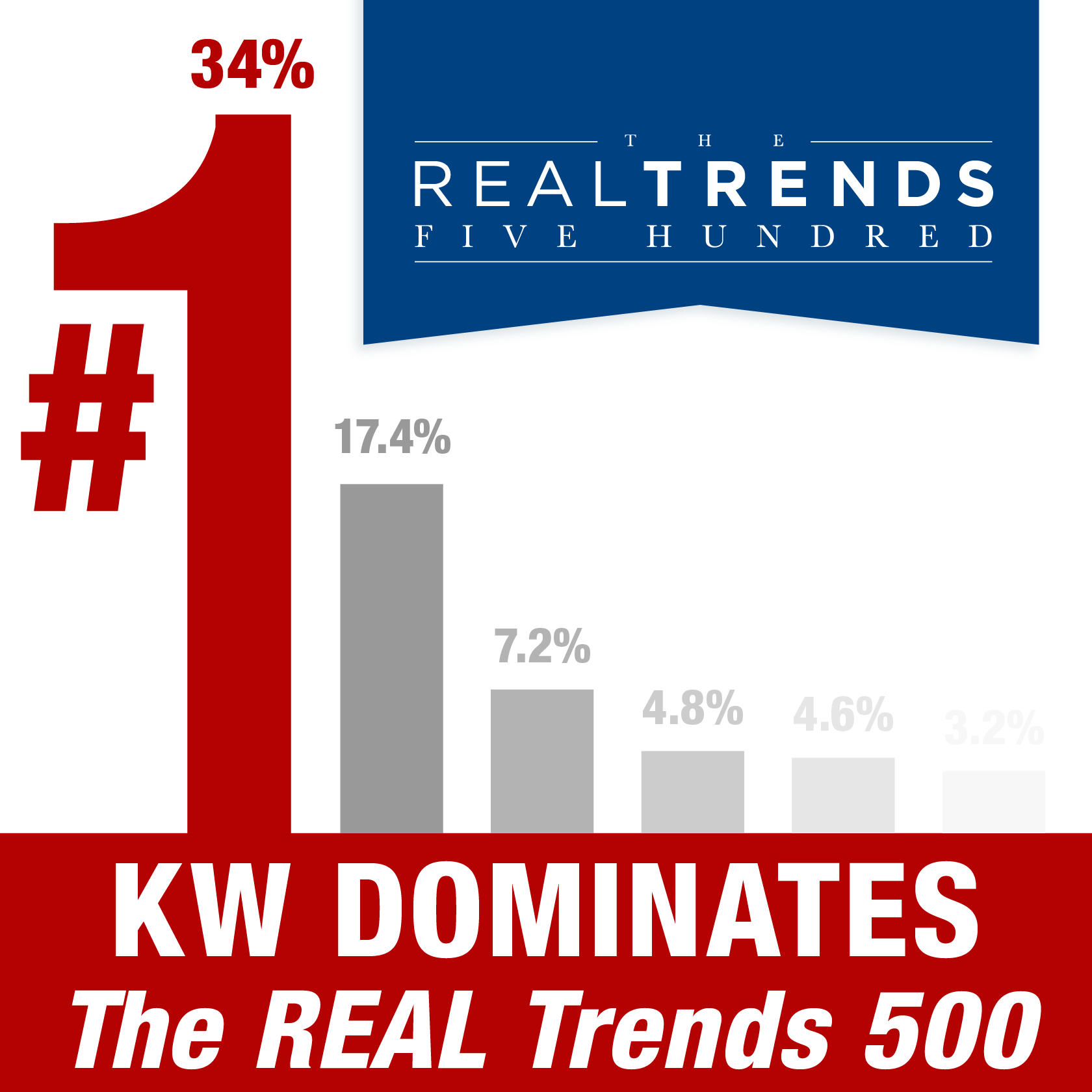 Asked about how things are going at Keller Williams La Quinta, Mark Kunce – Team Leader of Keller Williams La Quinta said that their focus on training and providing new technology helped creating more opportunities. "We have good momentum right now. We are opening a KW Commercial Division at our market center and rolled out new Real Estate License School system. Our 2018 Agent Leadership Council is planning many coaching events and social events, and the up-coming Red Day. And we are also planning to launch KW KIDS CAN this year, which I am very excited about".
As a franchise, Keller Williams had 161 brokerages ranked on the REAL Trends 500 by volume this year. These firms handled more than $207.5 billion in sales, up 16.0 percent year-over-year.
Ranked by transaction sides, 170 Keller Williams brokerages appeared on the REAL Trends 500, including KW- Hilgernberg Group (La Quinta, Rancho Mirage, Redlands, Big Bear). These brokerages handled more than 714,900 transaction sides, up 10.8 percent over the 2016 report.
2014 We ranked number 167 in the REAL Trends 500 by closed transactions
2015 We ranked number 177 in the REAL Trends 500 by closed volume
2016 We ranked number 96 in the REAL Trends 500 by closed transactions
2017 We ranked number 214 in the REAL Trends 500 by closed transactions
2018 We ranked number 185 in the REAL Trends 500 by closed transactions
"We're extremely proud to be in business with all our brokerages recognized in this year's REAL Trends 500," said John Davis, CEO and president, Keller Williams. "The amazing results are a testament to our leaders and agents' dedication at the local level to growing market share, productivity and profitability."

It took 1,899 transactions to be included in this year's REAL Trends 500, up from a minimum of 1,843 transactions a year ago. In 2016, there were 235 firms recording over $1 billion in residential sales while there were 274 firms that accomplished this in 2017.

"Housing sales in the nation were up 1.1 percent in 2017 from 2016. REAL Trends 500 firms were up 3.3 percent in the same period," said Steve Murray, president of REAL Trends. "For the fourth year in a row, the nation's largest brokerage firms gained market share."

To view the rankings, go to https://www.realtrends.com/rankings/rt500.

About Keller Williams Realty, Inc.

Austin, Texas-based Keller Williams, the world's largest real estate franchise by agent count, has more than 940 offices and 178,000 associates. The franchise is No. 1 in units and sales volume in the United States. In 2018, Training magazine inducted Keller Williams into its Hall of Fame of top training organizations across all industries in the world. Since 1983, Keller Williams has grown exponentially and continues to cultivate an agent-centric, education-based, technology-driven culture that rewards agents as stakeholders. The company also provides specialized agents in luxury homes, commercial, and land properties. For more information, visit kw.com.

About REAL Trends

REAL Trends has been The Trusted Source for news, analysis and information about the residential real estate industry since 1987. They are a privately-held publishing, communications and consulting company based in Castle Pines, Colorado.

About Red Day

RED Day, which stands for Renew, Energize and Donate, is our annual day of service. Each year on the second Thursday of May, we celebrate RED Day as a part of our legacy worth leaving. Making a difference in the lives of others and bettering the communities that we serve lies at the heart of the Keller Williams culture. This observance defi nes who we are and is a natural extension of our commitment to the highest level of professional customer service. Over time, a growing number of our family members and friends continue to participate in this extraordinary event. It embodies the generous spirit and commitment associates have to "giving back" to the cities and towns they live and work in.

About KW Kids Can

KW Kids Can is an educational nonprofit founded to engage the next generation of entrepreneurs and world leaders in conversations that matter. Our learning program teaches young adults how to gain their edge in an increasingly competitive world. Students walk away with concrete tools that help them pursue the life they desire.